Casio SA-1
Info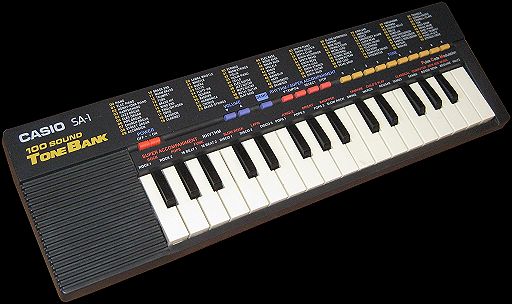 Guess what; I've found my old little toy keyboard I got from my uncle way back!
One day my sister and I decided to look thru some really old stuff that's been lying up in the attic at our parents house. You know, clean things up, keep some and throw the rest. While we were going thru the stuff, my sister suddenly stopped and said: "Hey Per Kristian, look here" and there it was! Being tucked away for so long I wondered if it still worked. I took it back to my studio and plugged it in and what do you know; everything worked perfectly!
I don't know exactly when it's made, but since the demo song is Wake me up by Wham!, I'd guess it's made around 1984.
The Casio SA-1 has 100 sounds or tones as they are called and 32 rhythm/super accompaniments which is the total number of keys on the board. The accompaniment loops are selected by pressing the select button, then any of the keys. All the sound on the Casio SA-1 is made by tiny low-fi PCM samples which is quite noisy due to the low bitrate - it was probably meant to mainly be used with the onboard speaker, but it has headphones output. Its duophonic - 2 voices can be played along with the accompaniments, so in reality it has about 4 voices I guess.
For a toy I think it's a pretty good keyboard, sadly there is no MIDI though. It has some sort of reverb, but the output is mono. I've added a bit reverb from the mixer to beef up the sound when I recorded the samples, but you would do that with any other effect-less synth anyway so it's nothing but fair.
Audio samples