Access Virus KB
Info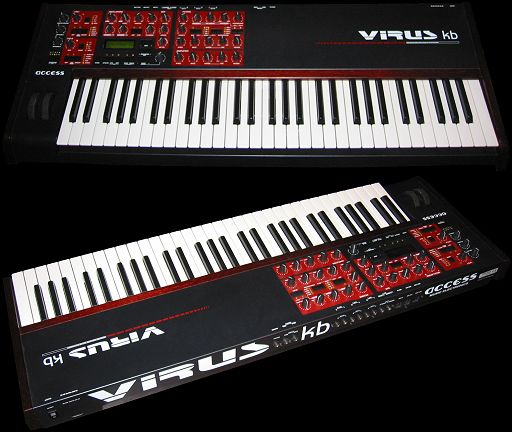 This is the workhorse and master MIDI controller in my studio; it does just about anything when it comes to analog sound. The interface is excellent, lots of routing possibilities, a nice set of knobs to play with and quality velocity-sensitive keys with aftertouch. This synth also well-built, all metal and wooden side panels, no cheapo plastic-stuff. It's loaded with onboard effects and you can adjust most of the parameters. Even though the Virus KB is outclassed several times by new synths from Access, I stick to my Virus KB - it's still the best looking one ;-)

Audio samples - these patches are made by me
Soundwave Doing my best to sound like Frank Welker thru the Virus vocoder.
Solina String-Ensemble My Virus KB emulation of the Solina String-Ensemble.
The Laser Harp Modelled after the Elka Synthex, this is the laser harp sound!
Korg Minipops 7 Multi mode patch with Minipops sounds.
The church A church organ patch I made - this is a MIDI, not me playing.
Titan The mighty "Titan" patch.
Zombies A choir sounding pad.
Virus Nightmare A scary nightmare with digital screams.
Drunken old man This patch sounds like some guy that had one too many beers. Actually, it sounds a bit Norwegian.
Jarre pad Jean Michel Jarre sounds.
Switch off My Virus KB makes this sound when you turn it off.
Virus KB only tracks
These tracks are all made by using only the Virus KB and recorded in one shot.