Roland JD-990
Info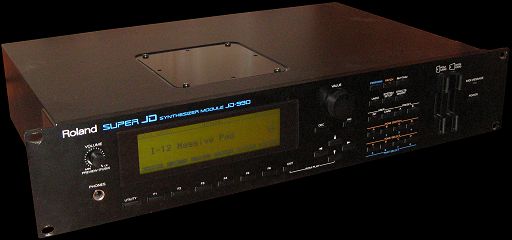 The Roland JD-990 aka "Super JD" - my latest addition to the studio. I'll write more about it later...

I picked up the SL-JD80-03 Rock Drums PCM card for my JD-990 and it sounds ok I guess, some of the samples sounds a bit close to the internal JD-990 samples but it ain't that bad. I decided to make some sort of a experimental techno track with the Rock Drums card and limited myself to only use the JD-990 for the track. As I was programming a drum patch I thought; heck, why not limit myself even further and make the whole track on a single patch. Each tone is appropriately sectioned over the keyboard:
Tone A: Internal Fat saw
Tone B: Rock Drums tom
Tone C: Rock Drums snare
Tone D: Rock Drums high hat

Recorded directly from the JD-990 in one shot. The Virus KB only acts as a controller.