Roland TR-909
Info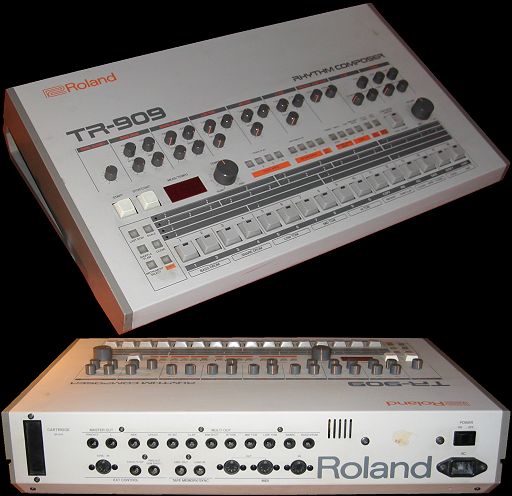 Roland TR-909 - the original techno beatbox. That bass kick and open high-hat you hear in most techno/dance/house music is either this machine or samples of it. The TR-909 have a mixture of digital samples and analog sound to create its beats - high-hats/crash/ride sounds are digital and bass-kick/snare/clap/rimshot/toms are analog. It has an onboard sequencer which is really easy to use and shuffle possibility for funky rhythms. A great thing with the TR-909 is MIDI. It's the first ever drum machine to include MIDI control, so it can be used like a sound module sequenced from a PC. Each of the 10 sounds has a mono output on the back of it. One stereo master output runs a mix of all the sounds, but if any of the mono outputs are being used it will be muted in the master mix.
The TR-909 wasn't a huge success when it came out in 1983 due to the LinnDrum which is the drum machine of the eighties, so it was only in production for a year. 10000 units were made.
This drum machine has been used by countless artists for many years and will be with us for many more years to come, in one form or another.
Audio samples